As an estate agent, you probably already know that a huge portion of your enquiries come from people who find you and your properties online.
Across all industries, more and more consumers are turning to the internet to find out information on their needs, and real estate is no different.
So, how can you make your property listings visible and easy to find on Google – the most used website in the UK? With SEO!
What is SEO?
SEO stands for search engine optimisation and it is the practice of increasing the quality and quantity of organic traffic from search engines such as Google or Bing.
In a nutshell, SEO is a branch of digital marketing that tailors the content of your website to rank well in the results pages of search engines. Optimising a website for SEO can be a daunting and lengthy process, but the results are well worth the effort and resources required.
If your real estate website is well optimised for SEO, you will find that you see your website ranking on the first page of Google for terms that are relevant to you, for example, a real estate agent in Sheffield with a high-quality website can expect to rank for terms such as "homes for sale Sheffield". Which will send huge amounts of targeted organic traffic who are ready to convert to the site.
If we look at Google Trends, we can see that demand within Google for "real estate agent" rose dramatically in 2020. Meaning that real estate agents with websites should be looking to optimise their sites to capitalise on this newfound audience.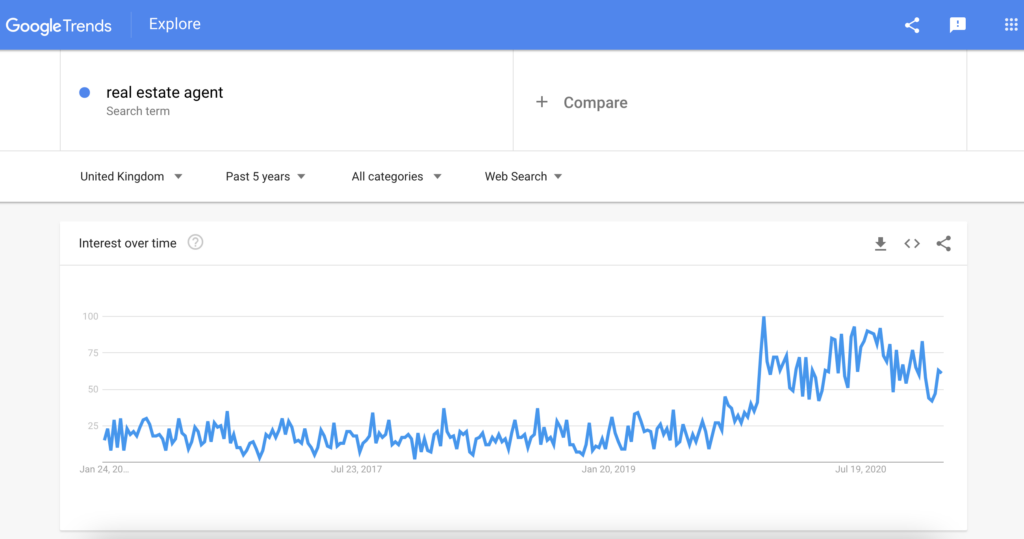 Why is local SEO important for real estate agents?
For real estate websites, local SEO is the most important area to focus on, as a high percentage of your target audience will be local to your business, or at least include the location within the search query.
Local SEO is vital for real estate agents as Google recognises the intent behind searches such as "homes for sale" and displays results that are local to you. This means that having your site optimised for local SEO will massively boost organic traffic from Google, who's search intent exactly matches your offering.
Again, if we look at Google Trends, we can see a steady increase in local searches regarding property sales. By inputting "houses for sale near me" we can see the linear influx of demand for local real estate agents over the last 5 years.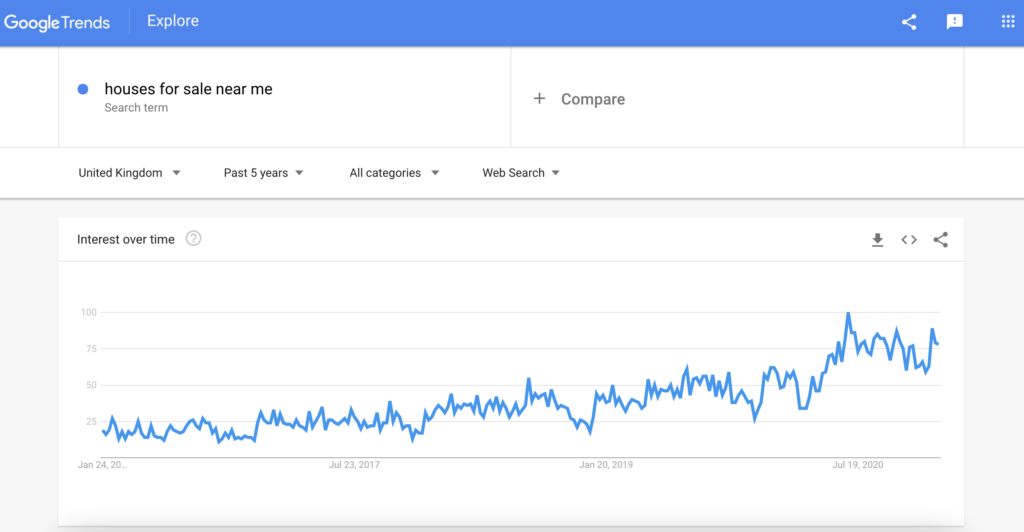 5 Local SEO tips for real estate websites
Real estate is a highly competitive industry, and this is reflected in the search results. These tips will build a strong foundation for local SEO on your site and will help you gain an edge over your competitors.
UK real estate is highly competitive, no more so than in major cities. SEO plays a huge role in deciding which businesses get a share of the market and so, everyone is doing everything they can to increase their search visibility.
Luckily, as a small business, everything you target is highly local so you are only competing with others in your local area – and a few big-dogs who will always be on the first page, such as Rightmove etc.
1. Start with an audit
SEO optimisation of any website should begin with an in-depth SEO audit. This will evaluate where your site currently is in terms of optimisation, an SEO audit will determine what areas of the website are doing well, and can be capitalised on, and what areas need improvement.
For an SEO audit to be effective, it should be tailored to your industry to create an effective roadmap for your website. So, before you get stuck in, the following should be considered;
Does the site rank on Google locally?
How much, if any, organic traffic is your website currently receiving?
Is the organic conversion rate of this traffic as you would expect?
It's easy to find out the answer to these questions, the best way to see if your site ranks locally is to simply google a few key terms such as;
"Houses for sale near me"
"Local real estate agents"
"[Location] real estate"
Can you see your website on the first couple of results pages? If so, your answer is yes, if not then the following audit will help remedy this.
To see the amount of organic traffic your site receives, go to Google Analytics > Audience > Apply Organic Traffic Segment.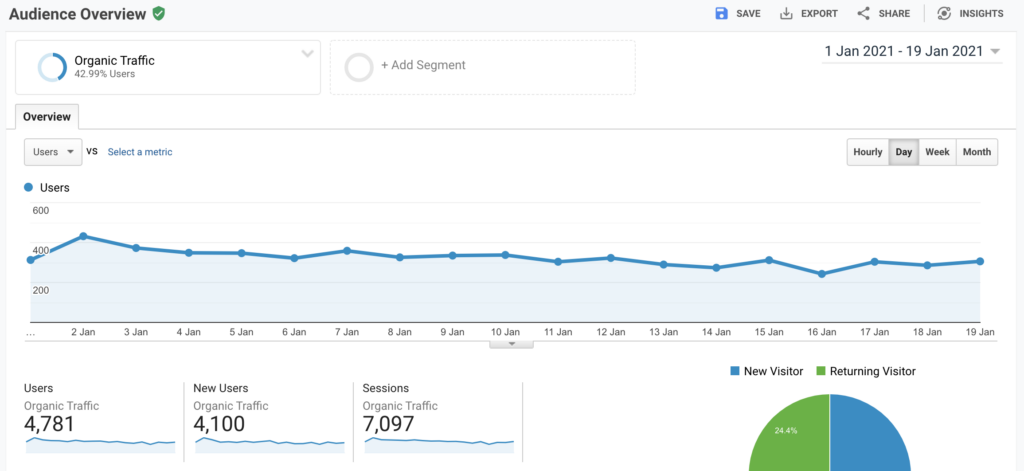 Finally, to see your organic conversion rate you will first need to have goals set up within your analytics. Goals can be set for a huge range of actions that can be completed on your website, but for example, let's say this one is set up for contact form completions.
To check your conversion rate in Google Analytics, navigate to Conversions > Goals > Overview. Make sure you change the traffic segment to organic traffic and apply your date range.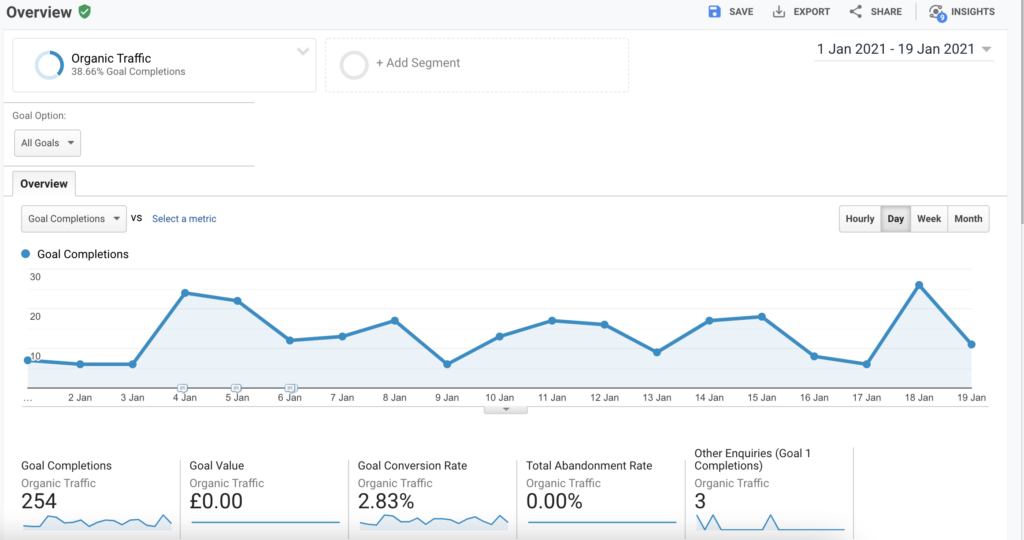 If you are not pleased with the answers to the above questions, a lack of search engine optimisation will be the cause. Using an SEO audit will help you figure out the causes.
Your audit should focus on 3 main areas, technical SEO, on-page SEO and off-page SEO. Each of the categories all have a significant impact on the overall health of the website and by drilling down into each category you can discover where your site lacks.
Key areas to include on your real estate SEO audit are:
Technical SEO
Indexing and caching
Search engine appearance
Url structure
Structured data
Crawlabillity
Internal linking
Technical issues
Site speed
Mobile usability
On-page SEO
Content features
Duplicate content
Pages with thin/no content
Page structure
Keyword mentions
Duplicate content
Off-page SEO
Off-page Strategy
Backlink analysis
Social signals
Unlinked mentions
A good way to evaluate each of these areas is by breaking them down and attributing a status score depending on the performance in the given area. When you improve and optimise everything in these areas you should begin to see an increase in organic traffic.
Use free tools such as Google Analytics, Google Search Console, Mobile-Friendly Test and PageSpeed Insights to gather as much data as possible.
2. Create an SEO plan for your site
Using the findings from your audits, the next step is to create a tailored plan to address each of the issues you discovered. An organised approach is essential to ensure you do not miss anything out.
Whether you have an internal or external web team, a technical task list is a brilliant place to start as a lot of technical SEO improvements are very time-consuming. Breaking down your technical task list into the categories from your audit will make an organised and easy to understand list for your team, not to mention it directly addresses the findings from your audit.
After you have fixed the initial problem areas, you need to look at the wider SEO optimisation of your site. This means overall, time-consuming improvements, here are some examples to get you started;
Focused keyword research for different pages.
Ensuring you match search intent, reducing bounce rates.
Optimising meta titles and descriptions for click through rates.
Image optimisation.
Internal horizontal link building.
Site speed optimisation.
For real estate websites, SEO action plans are vital as you might find you need to focus on different areas of SEO at a given time. For example, if you are finding that technically your site is very similar to competitors, and they are ranking but you are not, then it could be that you need to put more focus on link building initially to increase the authority of your website. Following this with other technical and content optimisations will then give you a huge edge over a competitor who was once outranking you.
3. Increase local keyword mentions
Reviewing the content is an essential part of your website's SEO journey, whilst your audit should have picked up those pages with serious content issues, you shouldn't forget that the frequency and quality of refreshers to content is a huge ranking factor.
One of the most important things in local SEO for real estate agents is to include a plethora of local keywords. It's likely your property listings already include this, but what about category and informational pages?
Including drilled-down locations is very important to capture the hyper-local searches. Not only including the name of the town/city but also the local area or estate name is essential. Make sure you check out the search volumes of these local searches using a tool such as Moz or Ahrefs.
Don't forget to add information (in the content!) about local amenities, schools and parks to each property listing.
Also, a top tip is to have the location of the house in a google map embedded on the page to increase user experience!
4. Add your site to Google My Business & directories
A huge factor to local SEO focus on local citations; the more places on the web where your business website, address and phone number are consistently shown the better for your visibility.
Having a Google My Business listing is a no-brainer for real estate agents, and should be fully optimised with as much information as possible, images, reviews and ensure that it is constantly updated.
Having a Google My Business listing will boost your rankings in Google locally, as well as show all your business info within the SERPs and add your estate agents location to Google Maps.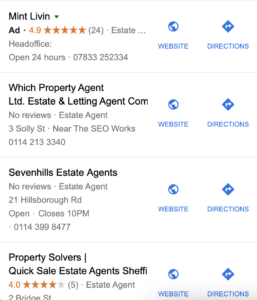 As well as ensuring you have an optimised GMB listing, you should also ensure that your business is listed in as many relevant directories as possible. This includes both industry-specific and generic phone books. On each of the below platforms, have a search to see if your business is already listed, if so you may need to go through the process of claiming the listing to add or amend any of the information to ensure it is consistent.
A surprising amount of people use online directories, so by ensuring your listings are present and up to date, it not only has benefits for your SEO but also can capture some additional referral traffic that you might have otherwise missed out on.
Some UK directories your real estate business should be listed on are:
5. Get backlinks from local publications
As previously mentioned, local citations have a positive impact on local SEO, and by getting links from local news outlets or industry publications you can build up your websites local authority.
Try investing in digital PR and send press releases to your local news about company updates, or even create articles around interesting properties for sale in the local area. Local journalists are always hungry for a stand-out article and something along the lines of "famous celebrity local house for sale" is a surefire pitch that is the ideal way to build local links to your real estate website.
Obviously, there are only so many local newspapers in one place, so get creative with your link building! Have you recently sold new offices to a digital company in your area? Perfect! ask if you can be featured on their blog and get a link!
If your real estate agents sponsors a local sports team or donates to a local charity, be sure to get your link from those relevant sites to further enforce your online presence for the local area.
Remember link building is all about quality over quantity, so ensure you focus your efforts of high authority sites that are local to your business, and only focus on those that seem relevant.
Bonus! – 3 SEO tips for property listings
Now you have run through your whole site and optimised for SEO, its time to focus on your most important pages, the individual property listings. Now it is tricky to get these to rank on Google as like e-commerce product pages they are constantly being removed and added.
However, there are still some tips that can be applied to your property pages to increase the overall SEO health of your site as well as improve the user experience and optimise for a higher conversion rate.
1. Embed a Google map
Google uses additional signals such as videos, interactive features and more to assess the user experience of a page thus increasing the visibility. By embedding a Google map onto the page, it means that your user who has landed on the page doesn't need to navigate away to view the location of a property on a map.
Adding an embedded Google map will reduce the bounce rate as customers don't need to navigate away and makes the site far more optimised for the user. It is very simple and easy to embed a Google map location on your webpage;
Open Google Maps.
Go to the location or Street View image you would like to embed on your property listing.
Click on the menu in the top left.
Click on share or embed map.
Click embed map.
At the left of the text box, choose the size you want by clicking the down arrow.
Copy the text in the box. Paste it into the HTML of your listing webpage.
2. Increase the quality and quantity of visual content
It might not be immediately obvious, but having high-quality images and videos gives a lot of benefit for user experience, which in turn reduces bounce rates, increases conversion rates and boosts the visibility of a page.
Google not only rewards quality written content that can be crawled but uses a range of signals (including the ones just listed) to assess the overall quality of a page including videos and images.
Not to mention, the massive increase of enquiries you will receive from a property listing by having really good images and a high-quality video, as your potential customers can see everything they want to about the listing. Pair this with some fantastic written content – which you should already have by following our previous tips! – and you will see some amazing results.
3. Promote listings on social media channels
Finally, promote every new property listing on all your social media channels. Google uses 'social signals' such as views, likes and shares as another 'vote of confidence'. Similar, but less significant than a backlink, social signals will give the new listing an initial SEO boost as it receives referral traffic from your social media post.
Make sure that you show off the property as much as possible on each post to increase your engagement and clickthrough rate, use your high-quality images and videos from the previous tip!
Conclusion
Although real estate hosts some of the most fierce Google competition, by focusing locally, you can ensure your site has strong visibility and a healthy amount of targeted, organic traffic.
Investing in SEO using these tips can help your business rank well, even against some of the biggest names in real estate.
Remember that SEO should always be at the back of your mind, especially when making any web development changes to your site. Continually run an audit every six months or so to ensure your health does not slip back to old ways and then your competitors will never be able to steal your rankings!
If you are not familiar with SEO be sure to check out our other guides or discover what our SEO agency can do for your business.