Keyword research is the most important foundation that is essential for successful SEO.
Quite simply, if nobody is searching for the things you write about, nobody is going to find your content and so, you will never get any traffic from Google.
There is no universal approach to keyword research, it varies on;
The website.
The SEO goals & objectives.
Budget, resources and deadlines.
The competitive landscape of the industry.
Today, we give you some insight into our proven keyword research framework, that can easily adapt to your goals and website, no matter what the industry.
Start with seed keywords
Think of seed keywords as the foundation of keyword research. They define the niche and help identify competitors. Discovering seed keywords can be as easy as describing the product or service by brainstorming how other people may search for it.
For example, an online store selling rat poison, the first google search you'd think of would be:
Rat Poison
Poison for rats.
Rat killer.
Generate some keyword ideas
Seed keywords are just the beginning of your keyword research process. Unless you are a leader in your industry, it will be very difficult to rank for seed keywords, as naturally the simple most obvious terms will have the highest search volumes, and so the highest level of competition.
Our next step is to generate a list of all the relevant keyword ideas (we recommend including the search volume in your spreadsheet) and by doing so, also get a good understanding of what people in the niche are searching for and what their search intent is in Google.
So, how does one generate a huge list of researched keywords?
Discover what keywords the website already ranks for
If the website has been around for a while, it should already be ranking in Google for at least a few hundred keywords, even if you have never paid any attention to SEO before.
A good, free source of this information is the performance report in Google search console: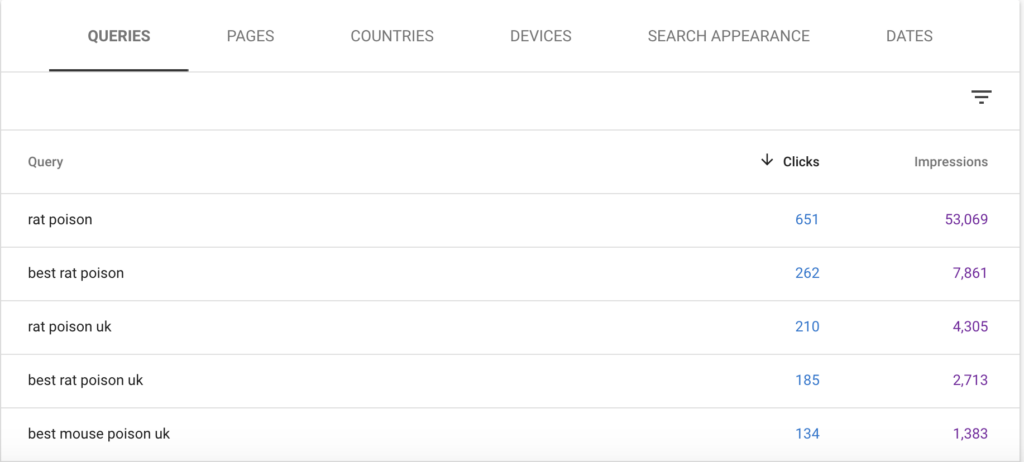 Discover the keywords that your competitors rank for
Chances are, your competitors have already performed keyword research for you, so simply find out the keywords they rank for and cherry-pick the best ones.
(If you are not sure of your SEO competitors, to find them, search the seed keywords in Google.)
Pick your favourite SEO tool (we pick and mix between Ahrefs, SEMrush and Moz). Usually, just one competitor will be enough to supply keyword ideas for months. But by evaluating multiple competitors ranked keywords, you can compile a list of the very best keywords.
Our key to an almost unlimited keyword source is to repeat this process, and don't forget to tap into other related industries. This can lead to discovering a lot of keywords that might not directly relate to what you are offering, but still bring very targeted visitors to the site.
In Google, a single page can rank for hundreds of closely related keywords. So, it's best to initially focus on the top-performing pages of your competitors, along with scouting their individual keywords.
There is no specific formula for finding keyword ideas, just enter the seed keywords and play with reports and filters until you stumble upon something useful.
There is nearly always a lot of keywords that competitors are targeting, but you aren't. This is undoubtedly the biggest missed opportunity and should be prioritised
Learn the niche
Here at Blank Slate, we thoroughly research and discover the niche of each of our clients. We have loads of reasons for this but just one is that studying the niche well, it's possible to discover some great keywords that no one else in that niche is targeting yet.
An insight into some of our thinking:
Hop into the shoes of the potential customers: who they are, what they want, and the stage of their buyer's journey they are in once reaching your site.
Be an active participant in all your niche communities and social networks.
Reading relevant blogs and news articles (also gives some ideas for creating your own link building content).
These untapped keywords are ideal for creating a captive audience and would have been missed if you only focused on your seed keywords. This technique means you can capitalise on users who are less likely to research the product as it is something they stumbled on rather than specifically looking for it.
Analysing keyword metrics
Following the aforementioned strategies, there will be thousands of keyword ideas to sift through and decide which ones deserve to be shortlisted. Next, you need to fins what keywords you should target by looking at a range of relevant metrics (and some common sense).
These metrics will separate the best keywords that should deliver the greatest return on investment.
Search volume
Search volume shows the overall demand, or amount of people searching for a given keyword within Google. It's important to note however, tht keyword search volumes can fluctuate or dip if they are seasonal keywords (for example, 'Christmas gifts') or external worldwide factors that might change search or shopping habits (such as the COVID pandemic).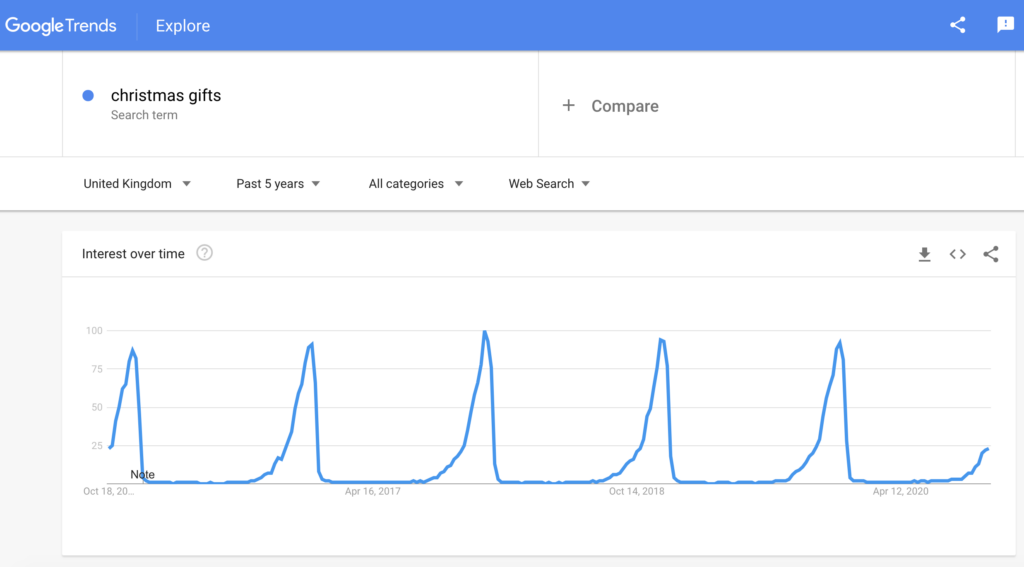 Search volume is the most obvious metric for measuring the impact of targeting a given keyword. However it is not all about going for keywords with the highest possible search volumes as chances are, you will not rank for them due to the nature of SEO, high search volume keywords are the hardest to rank for as they are the simplest and most direct for a given topic.
This means only industry leaders will rank for these, take our example from before, 'rat poison'. You can see on the SERPs below that the first page of results are dominated by the industry leaders and would be very difficult for a new or low authority website to rank for it.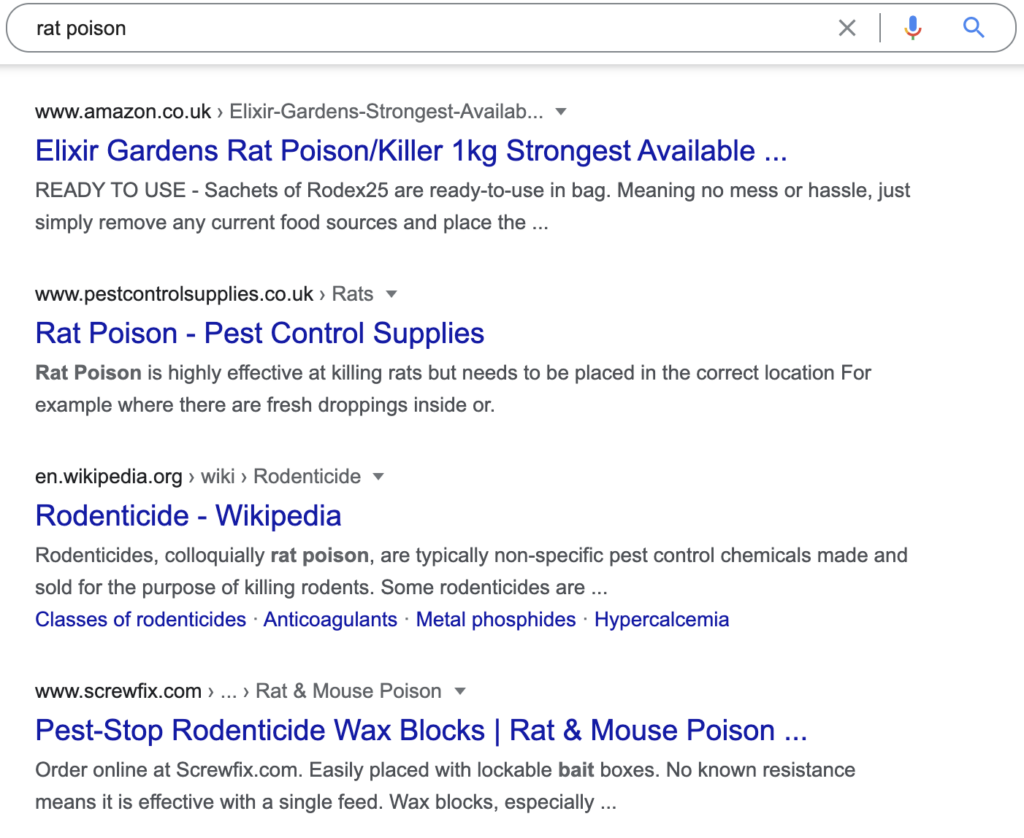 So the key to keyword research using search volumes is to find the sweet spot between competition and search volumes. This is where 'long-tail keywords' come into the mix.
Long-tail keywords are some of those juicy ideas you came up with earlier, any search query containing additional words to your seed keywords. This could be; 'Best rat poison UK', 'How to choose the right rat poison' etc.
Search relevance
One of the key signs Google uses to decide what keywords to rank a certain web page for is search relevance. This is where the concept of search intent rears its head.
The basic principle of search relevance is to ensure that your content matches the intent behind the user's search. As Google gets smarter with each new update, search intent becomes more and more important and now in 2020, your content will only rank if it directly matches the intent of the user. This is so Google always displays the most desirable results to its users.
In addition to matching the relevance of a keyword, your content needs to be the best resource available for the given query, as Google only wants to display the best intent-matching content.
Authority & competitors
Google provides more 'weight' to websites and sources it deems to be the most authoritative. This is almost always industry leaders, top-quality content producers and news and media publications.
This means you need to do everything you can to make your website an authoritative source, primarily through improving your site with helpful and original information and link building.
Manually Google a select few of your top keyword picks and have an evaluation of the SERPs. Key things to look out for are household publishing names (eg. Forbes), e-commerce giants (eg. Amazon) and any stand-out competitors who may have excellent content on their site.
You can also use a tool (such as the Moz toolbar) to have an easy check of a certain websites 'Domain Authority'.
Group your keywords
After creating a list of your keywords and prioritising them to find the best ones for your website, you now need to group and prioritize your keywords to discover where you should focus first, what page you should target a given keyword with and the type of content needed to match the search intent.
Group by parent topic
Head back to your list of keywords generated from the pages that your website already ranks for. Have a look at the top-ranking pages of your website for a given target keyword.
For example, this very article's main keyword would be "keyword research", so next, I would pop this into a keyword explorer such as Ahrefs, which shows me I can rank this page for other, similar, keywords such as "keyword analysis" and "how to research SEO keywords"
By doing this you can discover the many keywords that can be targeted through just one page, which means there is no need to create loads of separate pages to target very similar keywords. As this can lead to cannibalisation issues.
Group by search intent
After grouping your related keywords together by parent topic and mapping them to pages on your site, the next step is to group them by search intent. It is often difficult to decipher the search intent but by exploring the search results for a given keyword, you can discover the user's expectation and create your page to perfectly match this.
Once you have found the search intent of a keyword, you should then map it to a part of the users buying experience, which is one of the following; unaware, problem aware, solution aware, product aware or fully aware.
Prioritise your keywords
There's no doubt that throughout your keyword research journey you have been subconsciously prioritising your keywords. But before you crack on with your keyword optimisations, make sure you take the following into account:
What is your estimated traffic potential of the keyword?
How difficult will it be to outrank your competitors?
How much should be invested into ranking for a given keyword.
What's the ROI of traffic? Is the intent behind the search transactional?
A top insider SEO tip is to find the keywords that give a good return, but require the least amount of investment. Often referred to as 'low-hanging fruit' these are the keywords you already rank for but drive no traffic. Most often on the second or third page of search results. Spot these keywords and optimise them for the quickest SEO wins.
However don't focus on the keywords that will be the easiest to rank for, but the ones that offer the best return on your investment, or the highest value for your business.
Struggling to rank for the right keywords?
If you are finding it difficult to maximise your website's visibility on search engines, consider reading more about our SEO service. We provide an excellent service that will make your website rank highly for a tonne of keywords that not only drive organic traffic but also conversions for your business!