Website Maintenance For Small Businesses.
We Make WordPress Run Like Clockwork.
Website maintenance is often overlooked until it's too late. Preventative maintenance of your site is essential to keep it performing at its best. A neglected website will often cause security, performance and payment issues, which if not taken care of quickly, can harm your business.
As a small or medium-sized business, it can be difficult to keep on top of your website, from plugin updates to compliance issues, we take the stress out of managing your website, saving you time and money.
At Blank Slate Digital we specialise in the maintenance of WordPress (& WooCommerce) websites.
Get in touch with our experts and we can get your website back on track as soon as possible.
Monthly WordPress Maintenance Packages.
Monthly core WordPress & plugin updates
30 minutes of changes each month
Bi-monthly core WordPress & plugin updates
1 hour of changes each month
Weekly core WordPress & plugin updates
2 hours of changes each month
Site speed monitoring & optimisation
Hi, I'm Toby!
Founder of Blank Slate Digital
I created Blank Slate Digital in 2020 with one simple goal in mind, to help grow small businesses.
In the past, I have worked on some of the biggest brands in the world and I want to leverage my experience and knowledge to provide a quality service for SMEs. I pride myself on transparent recommendations and affordable pricing in order to get my clients the best results possible.
In A Pickle? We Also Offer One-Off Support.
If you have an issue or update to make to your website but have become unstuck, we offer one-off WordPress support on an ad hoc basis to help you get back on track as soon as possible.
Billed at a flat fee of £30/hour, our one-off support is designed to get your website back on track as soon as possible. Before undertaking any work we will have a discussion with you to scope out how much time will be needed to fix your issues so you have a close estimate before we begin.
We understand how important a website is to any small business, and it can be crippling if you have an urgent issue. For anyone who fits into this category, we prioritise getting your website fixed so the damage to your business is minimal. We do our absolute best to get these types of issues remedied as soon as possible, so from the moment you get in touch to completion you get a speedy and reliable service, even if it's out of office hours.
A sleek new brand & website.
Take a look through the crisp, modern brand we created along with a fantastic new website for a small mother & son pet supply business.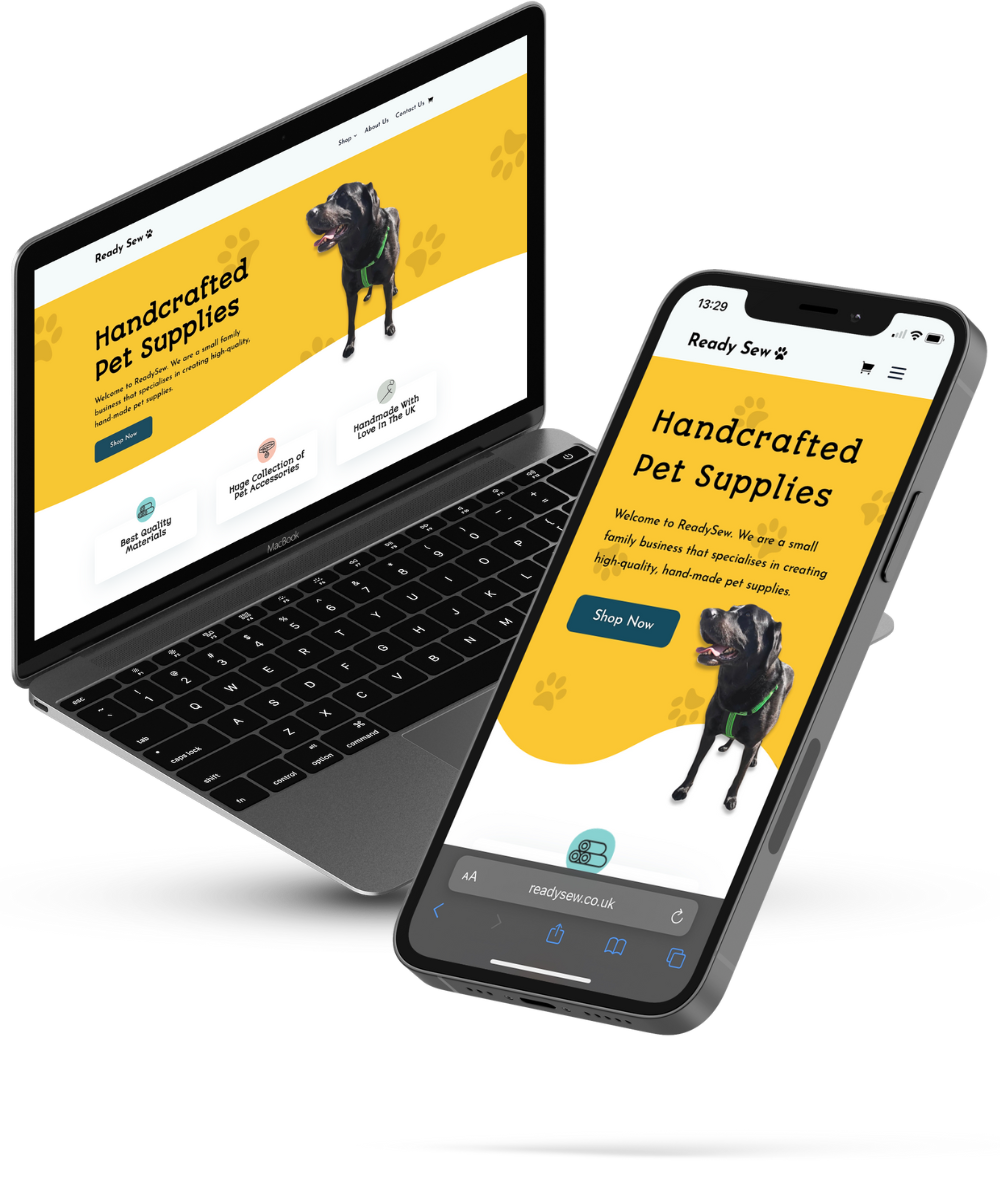 There is a stigma attached to web developers. Unfortunately, it's been earned by a select few. Too many times have we heard stories from our clients where someone previous to ourselves has created a dodgy website, charged for services they cannot fulfil (or cannot be bothered to), try to charge more than initially outlined or just disappear altogether, leaving the businesses they served stuck in limbo.
We understand how much trust small business owners place in their 'website guys' and since 2020, we have provided nothing but a top-shelf, reliable service to each and every business we have worked with.
Everything we undertake has your best interests at heart with transparent pricing and no funky contracts. In a nutshell, we are a dependable bunch of nerds that you can trust to keep your website in tip-top shape. Book a free consultation today and we can have an in-depth discussion about your needs and work out if our businesses are the right fit for each other.
Book A Free Consultation.
Discover how we will grow your business.