Looking to grow your brand and reach a wider audience through your content? Well, look no further than hero content.
While you may already be familiar with a content marketing campaign and the different types of content that you can use to grow and develop your brand, hero content is the pièce de résistance of the content marketing world. Brands and agencies long to create content that will skyrocket their brand awareness and feed into their conversion funnels.
However, developing hero content isn't something that you can achieve overnight. Instead, you must use data and insights to help feed into your hero content in order to approach it in a unique way.
Keen to find out what is hero content and how to develop it for your brand? You've come to the right place!
In this guide, we will explore:
What is hero content?
Hero content refers to a concept that is created with a wide range of customers in mind, that tells the audience what your brand is about, and engages them so that they want to learn more about your business.
One of the most important things to know about this marketing tactic is that if you want maximum results, then it needs to be researched thoroughly and driven by data. When creating hero content you should be asking yourself:
Does this content expose my brand to as many customers as possible?
If the answer is no, then you should go back to the drawing board.
This type of content is always around us and without even realising you are likely taken in by it on a daily basis. From Instagram posts to billboards and TV adverts, hero content has been around for some time. However, as the world of marketing grows and becomes more sophisticated, the better we can get at creating flawless hero content that aids growth for your brand.
What are the different types?
Usually, when creating content you first consider what type or format your content is going to take. However, when curating hero content you should keep in mind that you can use any form or topic that is going to have the best result on your audience.
Case studies, white papers, guides, ebooks, and surveys are the most commonly used types of hero content. But in recent years, video content has also become increasingly popular.
The type and format of your hero content will largely be influenced by the industry you are in and what works best in your field. This is another example of how data and research-driven hero content is; go with what you know will work!
In an increasingly visual world, video content is so popular as it is one of the most engaging forms of content that has the best conversion rates. For example, research has found that video marketing campaigns receive over 60% more qualified leads per year than marketing strategies that don't utilise the power of video.
Often hero content is time-consuming to produce, and with big ideas come big expenses. This is largely why brands produce hero content infrequently, as it is more costly than a blog post or social media post. While there are some more affordable options, the most common and successful types of hero content are TV adverts, competitions and activities that go viral.
How utilising hero content will grow your brand
Hero content is generally considered to be a crucial brand activity that will help you make a big splash in your industry by speaking to a mass audience. This is slightly different to how we would usually tell you to create 'normal' content such as blogs for your brand. But the more people your hero content appeals to, the more effective it is going to be.
The main purpose of hero content is to grab people's attention and inform audiences of your brand's existence. There are so many brands out there looking to make themselves known, so your hero content needs to make some noise in a busy and loud environment.
Hero content helps you grow your brand as it provides you with a platform in which you can engage with potential customers and amplify your brand message.
Hero content should play a key role in your strategy
It is crucial to remember that hero content is not a stand-alone form of content and should be the start of a bigger and more complex content strategy.
A great way to view your hero content is to think of it as a headline of a newspaper. It grabs the attention of the reader, intrigues them to want to know more, and leads them to turn the page and learn more about it. This is exactly what you are trying to create with hero content.
Therefore, you need a wider content strategy to back you up. Hero content is important as it is going to drive traffic and engagement to other evergreen content that you have. For example, if you have created hero content in video form that showcases a new product you have launched, then you should have blog posts and how-to guides that your audience can access to find out more.
How does hero content fit into your conversion funnel?
Every successful marketing campaign should have the conversion funnel in mind. This refers to the journey that a consumer takes from being a visitor to a website to becoming a customer. There are many different stages of the conversion funnel, but hero content fits into the first stage: awareness.
Hero content helps to build your brand awareness and make audiences aware of your business and what it provides. It aims to educate potential customers of what you have to offer and how it can solve a problem for them.
By effectively showcasing what a brand has to offer through the use of hero content, you can drive more quality traffic to your site, where they are more likely to become a customer.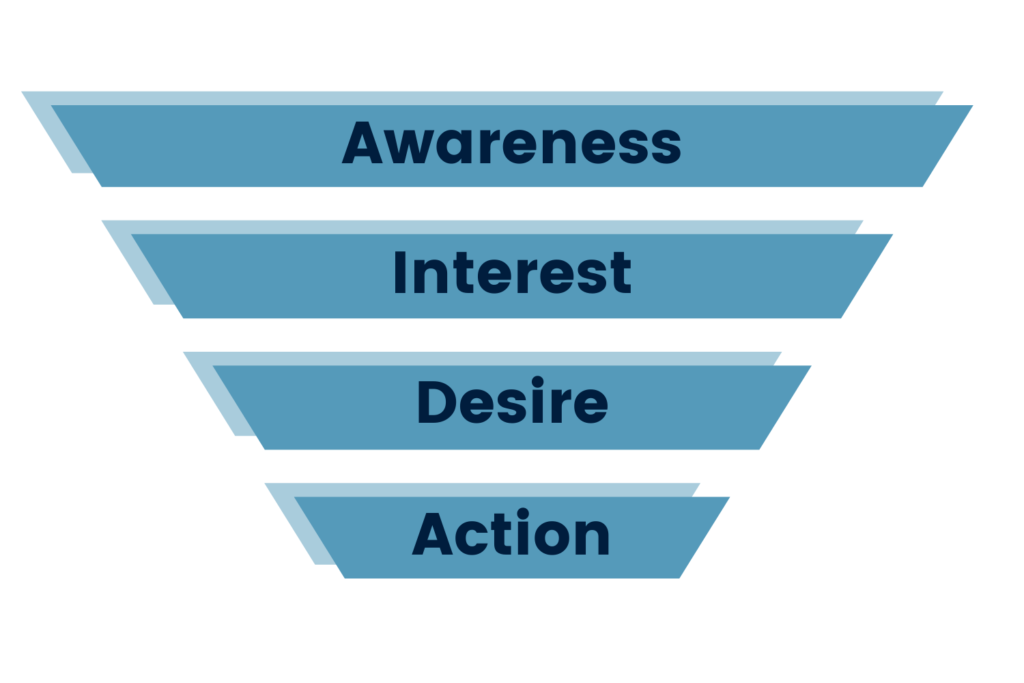 How you should approach hero content
It is crucial to keep the conversion funnel in mind when creating your content so that it is as successful as possible. To drive maximum results, we would recommend that you approach hero content a bit differently.
Whereas traditionally you may consider what sort of format you want new content to take when it comes to this marketing activity, we recommend you start off by thinking of ideas. Consider what it is you want your content to say to your audience, and what you can say to resonate with mass audiences.
Once you know what you are aiming to say and achieve, then you can start to explore the huge range of content formats that hero content can be presented in.
The three H content strategy
Hero content exists as part of a wider content strategy called the three H's. This refers to three specific types of content that make up a collaborative content pyramid with each playing a different role. Here are the three types of content and what they mean:
Hero Content: Above we discussed what hero content is but in a nutshell, it is limited quantity content at the top of the pyramid that offers a brand entry point for mass audiences.
Hub Content: This is the majority of the content that your brand creates and should be consistent and episodic.
Hygiene Content: This content makes the most of the audience's interests and aims to gain traffic and hits based on search results. Some of the most common forms of hygiene content take the form of tutorial posts and frequently asked questions.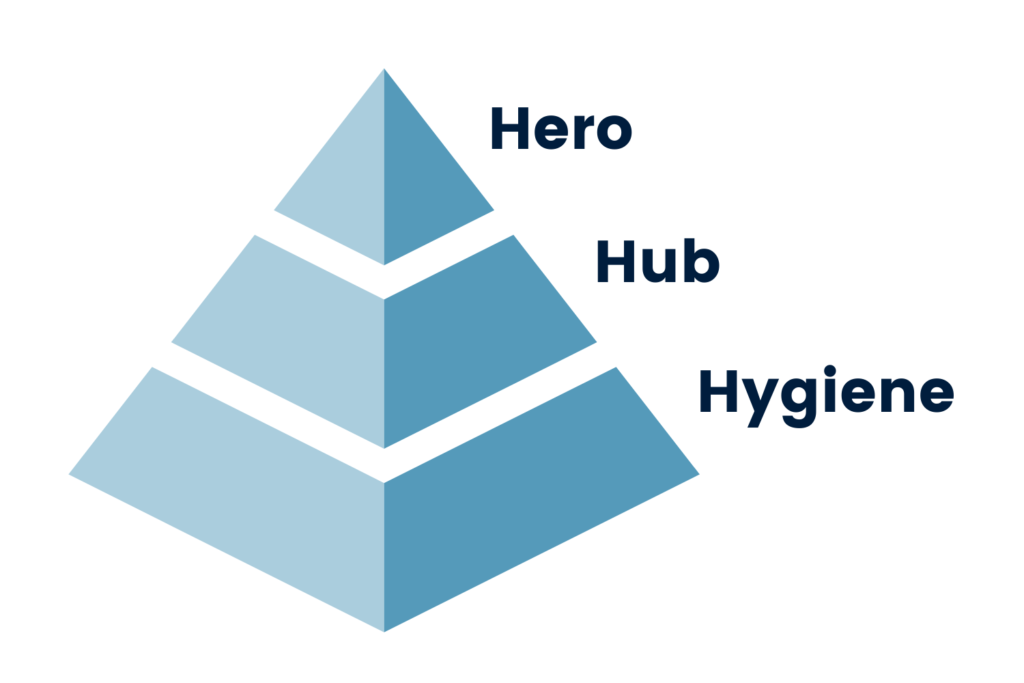 By following this innovative approach, you are provided with an idea of how much content of each type your brand should be creating. Hygiene content at the widest part of the pyramid is the type of content that you should be frequent and plentiful. With hero content at the narrowest part of the pyramid, this tells you that you won't be curating hero content as often.
The three H content approach is particularly useful if you are a brand that is not only struggling with what kind of content to create but also how much your brand needs.
3 fantastic hero content examples
A great way to fully understand what hero content is and how it can be used to grow your brand is to check out some of the best hero content examples.
John Lewis Christmas adverts
One of the most famous examples of hero content is the annual John Lewis adverts that we have all come to know and love. Often hero content takes the form of seasonal content as it is a great time of year to exert emotion and engagement from mass audiences.
The John Lewis adverts are now synonymous with Christmas and have a strong and lasting impact on audiences. This hero content ticks all the boxes when targeting a mass audience as it appeals to all age groups, genders, and those who don't usually shop at the store. Additionally, this hero content is a success as the advert is super shareable on social media which helps it reach other audiences. See how you've got multiple channels working together here?!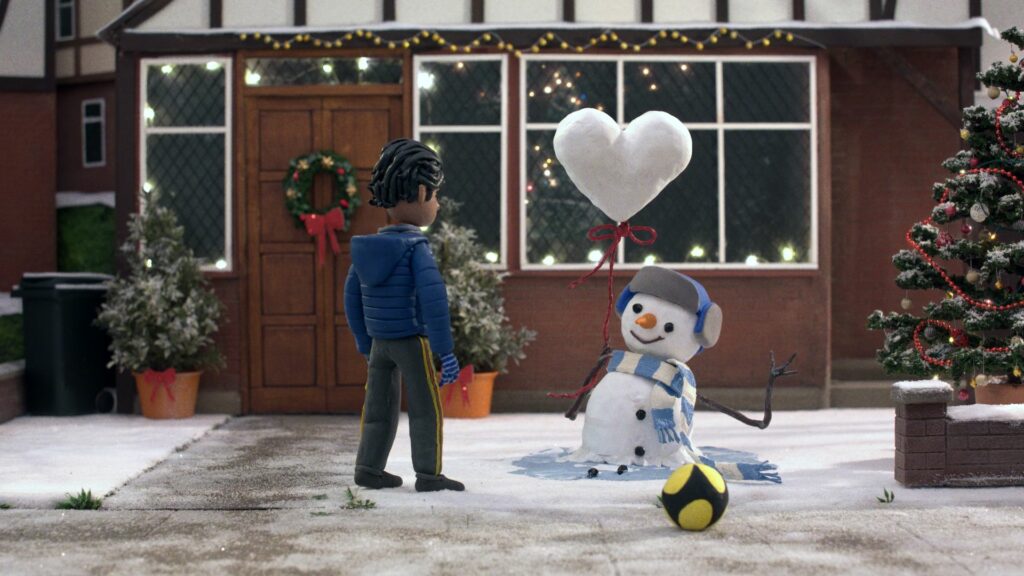 'Should've gone to Specsavers'
Another fantastic hero content example is the iconic Specsavers advert and slogan which has become one of the most famous marketing slogans in recent decades. The success of this campaign is a testament to how effective hero content can be when created correctly and used effectively.
This is a great example of how you can use the same hero content idea across different content types. From billboards to TV adverts, to social media posts and even popular culture, this hero content idea has become part of everyday conversation and the phrase now even features on Urban Dictionary.
Coinbase Superbowl ad
A more recent example of a successful type of hero content is Coinbase's recent ad for the Super Bowl. Coinbase is a cryptocurrency exchange platform that promoted its promotional website with a simple but effective bouncing QR code for a full 60-second ad.
Coinbase sweetened the deal by offering viewers a limited-time promotion that encouraged them to access the website fast. This hero content reached a huge audience and gave them all the details they needed to find out more about what the brand has to offer. It was such a success that the huge influx of traffic driven caused Coinbase's app to crash and gained huge traction across social media and journalists. That's what you call an effective hero content idea!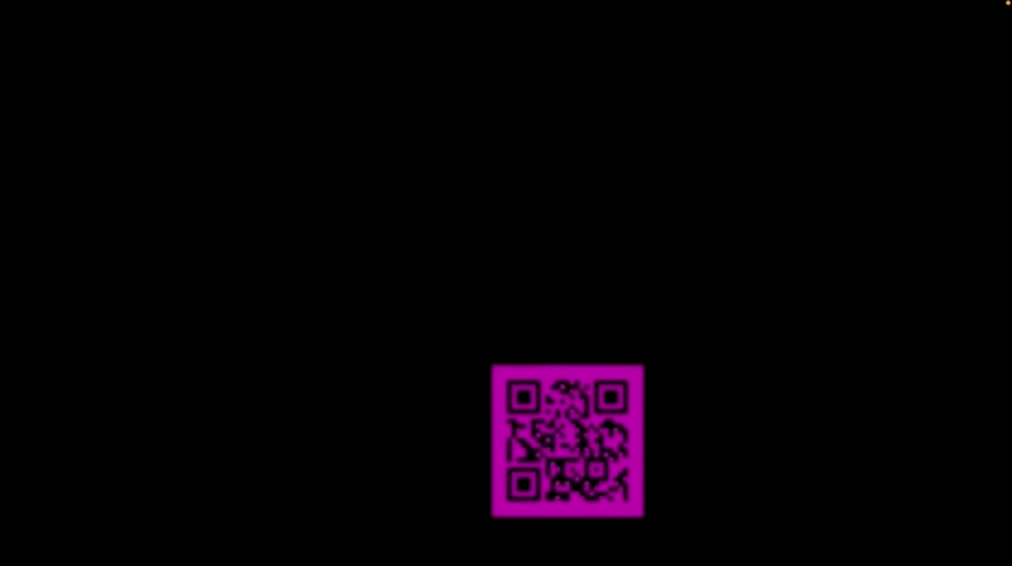 Final thoughts
While hero content isn't something that you can create overnight and takes a considerable amount of thought, data, and planning, it can transform your brand. In fact, if you are trying to take your business/brand to the next level and attract new customers, then hero content is a must-have aspect of any good content marketing strategy.