Represent Your Brand Online With Affordable Web Design Packages.
Are you looking for a bespoke website that will create a digital presence for your brand? No matter if you are a new business, just taking the first steps into digital or are looking to refresh your current site, we have a selection of web design packages that will are perfectly suited to your needs.
With your return on investment at the heart of everything we do, our websites are perfectly set up for the future, allowing the ideal foundation for organic and paid digital marketing. Lightning fast, SEO-optimised and beautiful across all devices, our websites flawlessly represent your brand online.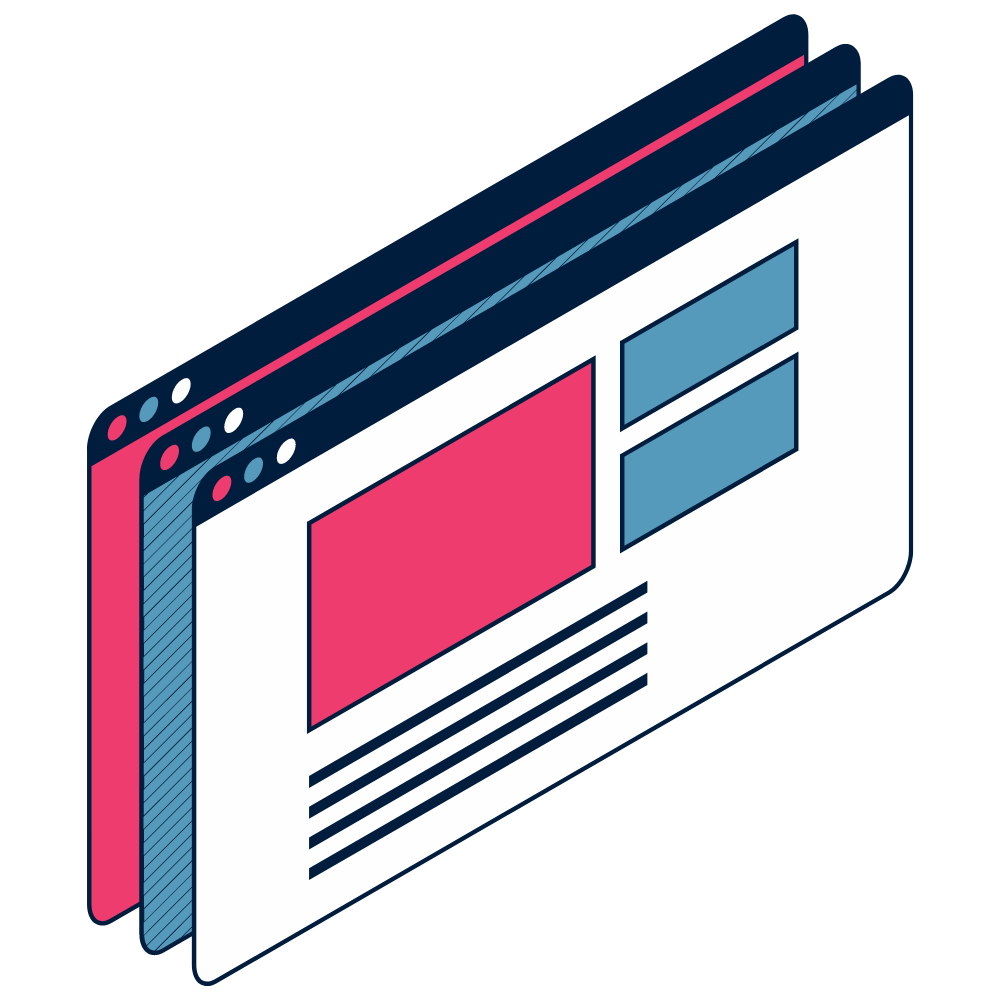 Web Design Packages For SMEs.
Small.
For start-ups and small, local businesses.
10 pages / page templates
Fully responsive & fast load times
Medium.
For digital-focused or scaling businesses.
25 pages / page templates
Fully responsive & fast load times
Bespoke.
For eCommerce and complex websites.
Working to your exact needs.
Fully responsive & fast load times
Need hosting too? We charge a flat fee of £30 per month (multi-site discount available).
From the first moment you get in touch to the moment we complete your shiny new website our friendly experts are dedicated to building you a beautiful, bespoke digital platform that's focused on your ROI.
Throughout the years we have honed our process to be as streamlined and effective as possible, meaning you get a new website as soon as possible without compromising on design, functionality or technical SEO set-up.
As we are specialists in both web design and SEO, all our websites are immaculately optimised for search engines right out of the box, giving you an ideal foundation to build an organic SEO strategy upon, without having to worry about the tech side.
Brief & Initial Concepts
All great websites start with an idea. No matter if you already have a concept in mind, or want us to provide you with inspiration, our web design process starts with an initial conversation to set out a brief.
Following this, we provide you with some initial ideas and if paired with our branding service – mood boards with your new logo, colour palettes and typography. Then we have discussions based on your feedback to refine a design you are happy (and excited!) to move forward with.
Hosting & Domain
If you already have a website, you likely will already have hosting and your domain set up. All we need is access to your hosting and domain settings so that we can build the new site on a staging environment and once completed point everything to your new website.
Depending on who your current provider is, we might recommend moving your hosting to ourselves depending on price, speed and reliability. We base this upon your ROI to ensure you are not currently paying over the odds. We have found that pretty much all our clients move over to our £30/month hosting service. We provide this at trade cost and do not actually make any money on it! We just got fed up with small businesses getting messed around or overcharged by their previous developers.
Website Design
This is the fun bit! Turning our initial concepts into reality, we first start with a trail page (usually the homepage) and then show you to get your thoughts and feedback. Then, we action this and once you are 100% happy, we go away and built out the whole website, using the initial trial page as guidance to ensure you love your new site.
Development
Next, we get nerdy. Developing your new website so that it is fully responsive across all screen sizes, has flawless functionality and serves every one of your business needs without hiccups.
Depending on the type of website we are creating for you, we implement things such as e-Commerce functionality and bespoke solutions. These are all easily manageable on the front end, so once completed you can make the changes you need without a degree in computer science. Although, you can always get in touch and we are happy to help!
Technical SEO
Throughout building your new website, we always adhere to all technical SEO best practices. But, just before we go live we have a final once-over to ensure everything is perfectly set up so search engines can access, crawl, understand and index your content the day the website is pushed live.
We also optimise any assets (images, videos etc.) and the code of your website (HTML, CSS and JS) so that it loads as quickly as possible -giving fantastic page speed across all devices. This not only helps with your SEO efforts but also user experience, as a fast website leads to much higher conversion rates.
This is what makes our web design packages unique, with years of experience in technical SEO we know all the common pitfalls that nearly all new websites go through. By negating this, we provide you with the perfect foundation to build an effective organic campaign.
Book A Free Consultation.
Discover how we will grow your business.