Your Premier Small Business Marketing Agency.
Book A Free Consultation.
Marketing Services That Grow Small Businesses.
At Blank Slate Digital, we're more than just a marketing agency. We're a dedicated digital marketing partner for small businesses, helping UK SMEs accelerate their digital transformation.
When you partner with us, your brand becomes the central focus of our small yet expert team. We specialise in providing digital marketing services for small businesses, combining creativity and technical expertise to craft exceptional campaigns that propel your business to new heights.
Helping SMEs Get Up To Speed Digitally.
Our digital marketing services for small businesses are comprehensive and tailored to your unique needs. We offer a digitally savvy approach to SEO, design, and development. Based in Sheffield, UK, we take pride in not only assisting local businesses but also those across the country.
We understand the challenges and time constraints of running a small business. Often, maintaining a robust digital presence can fall by the wayside. However, as the world becomes increasingly digital, it's never been more crucial to focus on digital marketing. It's not just about keeping up with trends; it's about staying ahead of them. Without the time to create and optimize your website, your competitors may outperform you in the digital landscape.
That's where we come in. As a leading small business marketing agency, we handle all the technical aspects of digital marketing, allowing you to focus on running your business. By partnering with us, you entrust all the 'nerdy' jobs to a safe and caring pair of hands.
"Toby has been great in helping us re-design our website to make it more modern and relevant. Increasing our web presence and search optimisation will drive more leads and ultimately business."
Richard Hancock – RH Financial Consultants
"Honestly, the 5-star rating award simply isn't sufficient considering how highly valued & professional the service Toby at Blank Slate Digital has provided us with."
Sam Weeks – The Brides Bouquet
"From day one, Blank Slate Digital were professional, informative and efficient. For anyone who is unsure about websites and where to begin, I would highly recommend this company."
Jo Clinch – Elephant In The Room
Some Of The Businesses We've Helped
Hi, I'm Toby!
Founder of Blank Slate Digital
I created Blank Slate Digital in 2020 with one simple goal in mind, to help grow small businesses.
In the past, I have worked on some of the biggest brands in the world and I want to leverage my experience and knowledge to provide a quality service. I pride myself on transparent recommendations and affordable pricing in order to get my clients the best results possible.
Your Return On Investment Is Our Top Priority.
By growing your business, we grow too. In an ever-evolving digital world, we don't need to tell you how important it is that your business changes with the times.
No matter if you have a in-house marketing team and need a specialist consultant to help guide your efforts, or if you have managed all your marketing yourself, our transparent and flexible approach lends itself perfectly to getting amazing results.
Choose Blank Slate Digital, your reliable digital marketing agency for small businesses. Let us help you navigate the digital world and reach new heights.
Small Business, Big Results
Every single project we take on begins with an in-depth evaluation to ensure we are the right fit for you. From here, we take a strategic and calculated approach to your digital presence with a dose of creativity to deliver excellent results.
We Grow Together
As a small business ourselves, we simply cannot afford to offer anything but the best for our clients. Stemming from our roots, our clients have always been treated as if they were a business owned by us with great passion and enthusiasm.
Transparrent & Honest
Too often we see small business owners frustrated with services they have used in the past. If you have been left high and dry by a previous provider, we can help piece everything together and get your digital presence back on track.
Boost Your Online Presence.
Your customer's journey begins with seeking out your offering online, we ensure you show in the exact places they are looking.
Get More Website Traffic.
We leverage the power of search engine optimisation to drive more traffic to your website where they engage with the experience.
Using expert web design techniques we continually test and evaluate your website to make improvements and get more sales.
Building a revenue-driving online presence
From zero to hero in just 6 months. Check out the web design, branding and SEO work we did for Reborn Campers to get their phones ringing.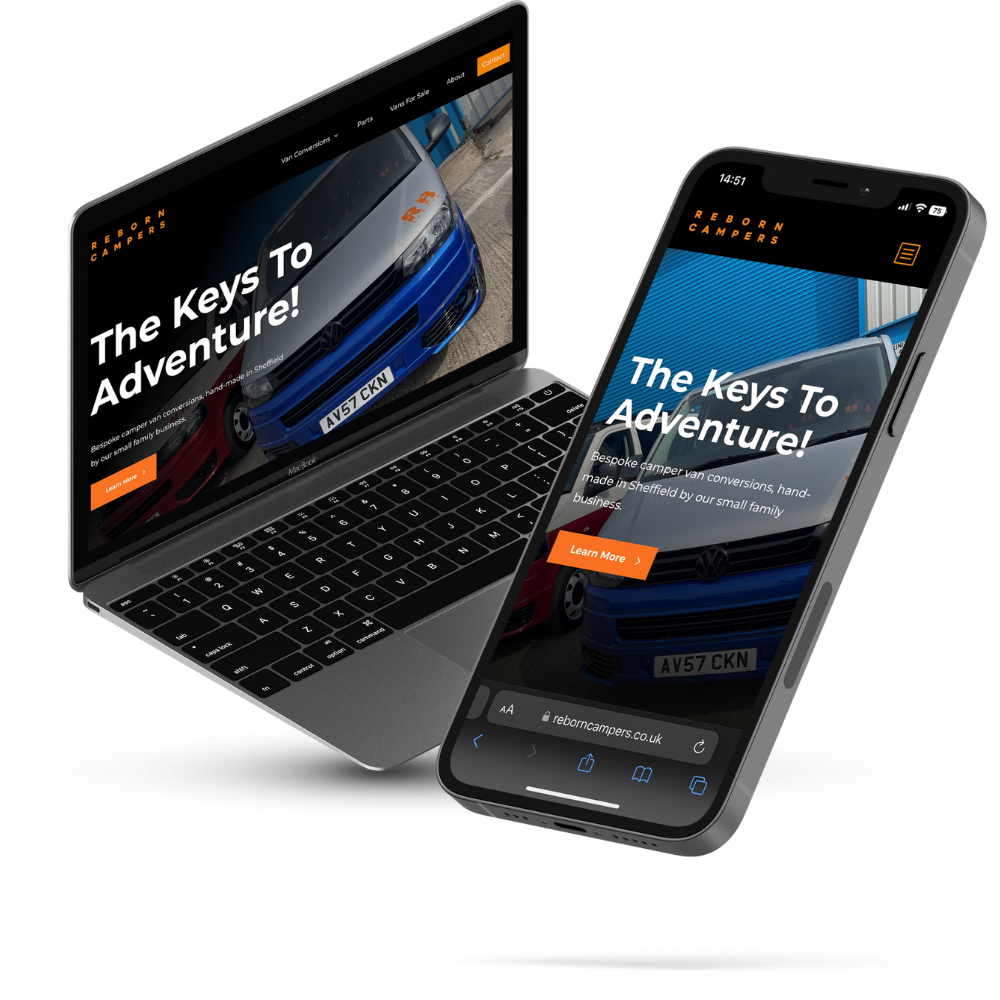 Book A Free Consultation.
Discover how we will grow your business.